Torrington Hospital protest sparks consultation extension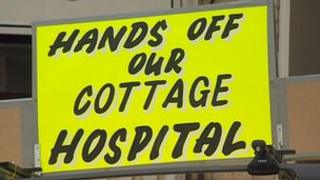 The strength of feeling over proposals to close beds at a Devon community hospital has prompted health bosses to extend a public consultation.
Northern Devon Healthcare NHS Trust announced last month it was to close 10 beds at Torrington Hospital for a six-month trial to "explore new ways of working" by treating people at home.
But the plans sparked a large protest march through the town.
Now the trust has said it will give people more time to share their views.
'Open dialogue'
A public meeting which was due to be held in the town has been postponed for two weeks.
The trust said recent conversations it had had with local people at organised drop-in sessions had highlighted concerns about the project.
"In light of this we are thoroughly reviewing what further public consultation would be most appropriate and will ensure that the local community are fully consulted on the proposals," a statement from the trust said.
It said it was committed to a "frank and open dialogue" with local people and insisted their views would be listened to.
The public meeting has been rescheduled for 12 September at 17:00 BST.