The Range expansion 'to create 6,750 jobs'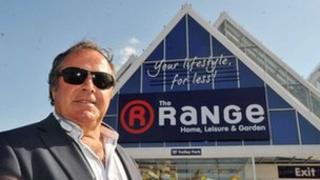 Homeware chain The Range has said it plans a major expansion which will create 6,750 jobs across the UK over the next three years.
Businessman Chris Dawson, who set up the chain in Plymouth, said he planned to open 45 new stores.
He said this would create more than 5,000 jobs in England and Wales and 1,750 jobs in Scotland.
The company currently has 76 stores across the UK employing more than 7,000 people.
Later this year, Mr Dawson plans to open stores in Dudley, Edinburgh, Milton Keynes, Southend-on-Sea and Dundee.
He aims to open 20 further stores across the UK in 2014.
Earlier on Friday, Mr Dawson opened his first branch in Scotland, in Glasgow, which he said was a "landmark" for the company.
"We do have future plans for expansion into Europe, however, that is all I can say at the moment," he added.
The former market trader opened his first superstore at Sugar Mill Business Park, in Plymouth, in 1989.
In 2013, he bought the retail park out of administration and renamed it Dawson's Mill.
In April 2013, he moved 77 places up the Sunday Times Rich List to 153rd and is believed to be worth £585m.