Grant for north Devon bat care unit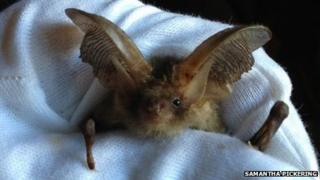 A woman who helps nurse sick and injured bats back to health has been given a grant to help fund her work.
Samantha Pickering, from Bishops Tawton in Devon, has received £1,700 from the Sustainable Development Fund, which is managed by the North Devon Coast Area of Outstanding Natural Beauty.
The organisation is responsible for wildlife, heritage and culture along much of the north Devon coast.
Ms Pickering said it would help her to raise awareness about the mammals.
"Like a lot of wildlife bats have really been struggling," she said.
"We have lost bats along the north Devon coast in particular, as people didn't realise there was support so close."
She said there were 18 species of bat in the UK and 17 of those were breeding in Devon.
Ms Pickering, who runs the small bat care unit from home, spends hours collecting and nursing sick, injured and orphaned bats back to health.
The work she does is voluntary and she said she relies on donations to support her work.