Insect diet: Fancy cricket risotto or mealworm cake?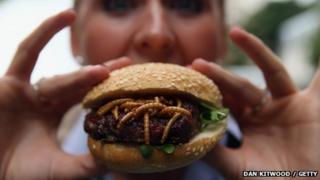 A scientist predicts insects including locusts, crickets and mealworms will become a popular and necessary part of the diets of people living in the UK.
Plymouth-based entomologist Peter Smithers believes a growing global population will result in more people turning to insects as a food source.
He is working with a Michelin-starred chef to create a trial menu.
The Sustainable Restaurant Association (SRA) said some UK restaurants have trialled scorpions and ants.
'Strain on friendships'
Martin Couchman, deputy chief executive of the British Hospitality Association, said: "We've noticed there's a lot more experimentation going on now than in the past [in the UK].
"Also Scandinavia, especially Denmark, is instrumental in new innovations - I've been to a food laboratory where they produce menus from berries and mosses."
Mr Couchman said the reputation of a restaurant would not be at risk if it followed "all the hygiene rules".
But he added: "The bigger problem may be that most of us wouldn't want to eat insects, and inviting friends to eat with you at an insect restaurant might put a strain on friendships."
Mark Linehan, managing director of the Sustainable Restaurant Association, said: "Meat production leaves a big environmental footprint and, with a rapidly increasing and protein-hungry world population, we applaud restaurants that are seeking to experiment by serving alternative protein sources.
"The Mexican restaurant group Wahaca trialled grasshoppers on the menu earlier this year and it proved a great success."
Mr Smithers and Michelin-starred chef Peter Gorton, from Tavistock in Devon, have ordered about 500 crickets, 500g of mealworms and 25 locusts for a trial menu at his restaurant.
The insects will be baked, stir-fried and blended into dishes.
The menu has not been revealed but Mr Smithers said some of the insects would be "obvious" in the dishes, while, in other meals, there would only be "background flavours".
Mr Smithers, a technical specialist at Plymouth University, said: "Insects have been regarded as a novel food for some time in the west, an exotic treat or daring delicacy eaten for fun and entertainment.
"However, this light-hearted take on insects as food is a peculiarity of western cultures and in the rest of the world insects are a regular part of human diets."
He said people living in the tropics "eagerly anticipated the harvest of insects as we do with blackberries and apples".
In May, a UN report suggested eating more insects could help fight world hunger.
The report by the UN Food and Agriculture Organization said eating insects could help boost nutrition and reduce pollution but "consumer disgust" remained a barrier.
Mr Smithers said: "As the human population grows insects will become more popular and necessary as part of our diets.
"They will be in a shop or restaurant near you within the next 20 years."
Mr Smithers said insects were more efficient at converting their food into edible protein than the vertebrates humans reared such as cows.
He said insects could help sustain a growing global population but they would have to be farmed.
Mr Gorton said he believed such "unusual ingredients" could take off in popularity in Britain.
He said: "You have to compare it to sushi 20 years ago.
"People said they wouldn't take it, but look at it now. You see it in a lot of restaurants and supermarkets, so who's to say bugs can't be the next superfood?"
But Amanda Baker, from The Vegan Society, pointed out many plant-based foods were a valuable source of protein and said: "There's plenty of food to go around if we share fairly and stop waste.
"There's no 'ick factor' like there is for anyone not yet de-sensitised to eating insects, or other particular animal species.
"We just need to eat low on the food chain, and enjoy plant foods first hand in fair quantities, for global food security."