New Devon air ambulance blessed by cathedral Dean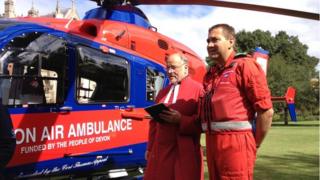 A new air ambulance for Devon has been blessed by Exeter Cathedral's Dean.
The £4.5m EC135 helicopter, paid for by the public, is due to come into service in the county in September.
The Very Reverend Dr Johnathan Draper blessed the helicopter at the Bishop's Palace Garden in Exeter.
"We bless dogs and cattle and everything that moves, so blessing something as important as the air ambulance is right up the church's street," he said.
Blessing both the aircraft and its crew, the Dean said their work was "fantastically important" to everyone in the county.
The Devon Air Ambulance Trust (DAAT) said the new helicopter would save it an estimated £144,000 a year in lease charges and running costs.
DAAT has to raise up to £4.5m each year to run its two aircraft.
Since 1992, DAAT has flown more than 20,000 missions.