Duchy urges River Avon netters to stop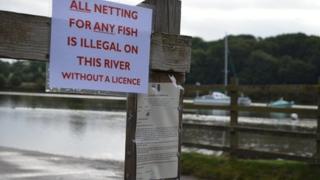 The Duchy of Cornwall has called on netters to stop taking fish from a south Devon river.
Duchy land steward Roger Halliday has written an open letter stating that there are no rights for commercial fishing in the River Avon.
It says netters are trespassing on the river, which is part of the Duchy's 131,000 acre estate.
Local people have warned that if the practice continues, the river could be "stripped" of fish.
The tidal section of the River Avon, which stretches about two miles from Bigbury Bay to Aveton Gifford, is owned by the Duchy.
The Duchy of Cornwall estate gives Prince Charles most of his income.
'Very upset'
The letter from Mr Halliday was received by Countess Grey, who leases part of the riverbed in the area, after she raised concerns about the netting.
The countess, who saw a group of netters in the river, said she feared they were taking bass which spawn in Bigbury Bay at the mouth of the river.
She has posted the letter on the river bank as a warning to netters.
She said: "It is all very well going through the correct channels, but it all takes too long.
"I felt someone needed to do something really rapidly.
"It's been going on for years and I just hope that they stop the netting.
"We are all very upset about it."
The Aune Conservation Association and the Avon Estuary Forum have also pressed the Duchy for action to stop the fishing.
The Duchy said it did not allow commercial fishing on the river and it was working with local agencies to stop it.