Plymouth waste plant boss speaks of ash deal hopes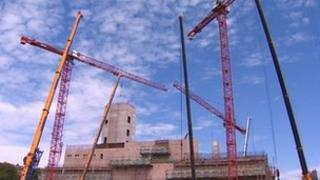 The company building a new energy-from-waste incinerator in Plymouth is still not sure where all its waste ash will go, managers have confirmed.
German company MVV Devonport Ltd is building the plant at the Devonport North Yard.
MVV said the plant would produce about 55,000 tonnes of such waste a year.
It said it had hoped to sell the ash for use in the construction industry, but added it had not yet signed any contracts with companies.
'Markets for materials'
The plant, which is currently under construction, is to produce electricity and heat by burning rubbish from Plymouth and much of south and west Devon.
Talking about the so-called incinerator bottom ash, project leader Paul Carey said there were markets for the material "all over the South West".
"We've already had workshops with consultants and road and traffic authorities who are planning works.
"It's these sorts of projects that will make use of these recycled aggregates."
The plant is due to start operating fully in 2015.