Woman awake on iPad during Derriford Hospital knee op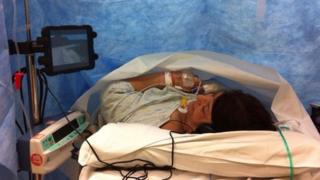 A woman has used an iPad to distract her during a knee replacement operation instead of being sedated.
Janet Blank, 65, from Plymouth is the first patient to choose the distraction technique instead of sedation at Derriford Hospital.
Ms Blank said: "I heard everything, the hammer and drill, but it didn't bother me at all."
A hospital spokeswoman said she was given anaesthetic to numb her legs and take away the pain.
Communicate with patient
Ms Blank said: "I didn't feel any pain and I actually watched the screen [used by surgeons] when they put the nerve block down my leg, which was fascinating.
"I didn't watch TV as I prefer the radio so I asked to listen to BBC Devon, the Judi Spiers show, as she's always good and makes me laugh."
Dr Matt Oldman, consultant anaesthetist, said: "By avoiding sedating anaesthetic drugs during the procedure we can reduce side effects such as sickness, post-op drowsiness and confusion.
"Another added advantage is that the surgeon can communicate with the patient during the procedure.
"Typically the procedures last between one and two hours, which is a long time to expect someone to lie still, but with the new computer tablets we can offer a choice of music, films and television."
The tablet has been on loan from the South West Regional Anaesthesia Group.