Devon police 'sent to wrong town' after burglary call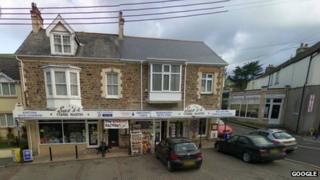 Officers were sent to the wrong Devon town after being called to a burglary at a shop, it has been claimed.
More than £5,000 worth of cigarettes and alcohol were stolen from Sue's of Combe Martin early on Friday morning.
Owner Sue Sussex claims a burglary was continuing for an hour after a 999 call was made, but officers went to Ilfracombe, five miles away.
Devon and Cornwall Police confirmed they had received a formal complaint and are investigating.
'Emptying cigarette unit'
Ms Sussex, 61, claims CCTV shows a burglary started at 01:00 BST and continued for three-and-a-half hours.
Despite a witness's call to police at 02:30 BST and two further calls at 06:00 and 06:30 BST, police did not arrive at her shop until 07:30 BST.
"The witness was on the phone to the police for more than two minutes," she said.
"He told the police that it was Sue's of Combe Martin, it was on the junction of Borough Road and Cross Street, immediately opposite the garage on the A39, and that there was someone actually in the shop at that time.
"They were actually in my shop for more than an hour after the call was made, emptying my cigarette unit.
"They would have been caught red handed if the police had turned up."
She added: "They (the police) had sent two cars to Ilfracombe, where there hasn't been a spar shop for about 16 years."
'Sheer incompetence'
Ms Sussex, who has run the shop for 42 years, also claims police had the witness's name and phone number but did not contact him.
"I understand that the incident was logged off as being dealt with," she added.
"I was totally devastated. The sheer incompetence, and I just feel totally let down by the whole incident.
"They were given such precise instructions, so it's awful."
A spokesman for Devon and Cornwall Police said: "A formal complaint has been made and it is being investigated by the professional standards department."