Devon's seized pit bull-type dogs returned to owners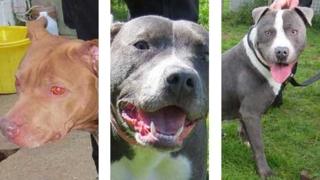 Twenty-five pit bull-type dogs seized by police in an operation against potentially dangerous animals have been returned to their owners.
The dogs were seized in Devon as part of Operation Doorstop Two, a swoop on the breeding of pit bull-type animals.
Devon and Cornwall Police said the dogs could be destroyed if the owners let them out in public without muzzles and without a lead.
Det Insp Praveen Naidoo said dogs and their owners would be monitored.
The police operation followed the sentencing in May, of a Barnstaple couple at the town's magistrates' court for owning and advertising for sale pit bull-type dogs.
Dogs muzzled
Dogs sold by the couple were seized and none had an exemption certificate, which is required under the Dangerous Dogs Act.
But a court decided that as long as they had certificates, they could be released with a Contingent Destruction Order (CDO).
The orders mean the dogs will be destroyed unless the owners comply with conditions such as neutering the animals and having them muzzled in public.
The dogs must not be under the control of anyone under 16 and must be micro-chipped.
Det Insp Naidoo said: "We are talking to owners to establish what their regular walking routes are so they can have regular visits and we can make sure that we know who the local owners are and who the dogs are so we can monitor that.
"Any risk that these dogs present has been mitigated."
He said none of the owners had known that the dogs they were buying were pit bull-type dogs.
Sgt Tony Whitting, from the force dog section, said: "People should research and know what type of dog they are purchasing.
"There have been some very high-profile and disturbing cases across the country where dogs of this type have killed."