Plymouth sit-in care home workers evicted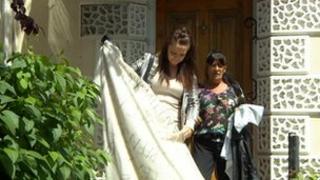 Two care home whistle-blowers who staged a sit-in protest over unpaid wages have been evicted.
Rosemary Parker and Launa Llewellyn-Jones appeared at Plymouth County Court after receiving an eviction notice from the owners of Park View care home.
The judge told the women they had no legal defence to stay, "even if some people have some sympathy for you".
They lost their jobs after reporting concerns about how residents at the home in Peverell were being treated.
An employment tribunal had awarded Ms Parker and Ms Llewellyn-Jones £40,000 between them for loss of earnings and unfair dismissal.
But, since winning the tribunal, they have not been paid and decided to stage the seven-day sit-in at the closed home.
'Not the end'
The 20-minute hearing was not attended by the care home owner, Nick Chapman, but his barrister, Tim Pullen, told the court Ms Parker and Ms Llewellyn-Jones had no right to be in the property.
Deputy district judge Stephen Rutherford made an order for immediate possession and, following the court appearance, the women cleared their things from the care home.
The judge also order the women to pay £835 in costs, with the payment deferred for three months.
Outside court, Ms Parker said: "We feel upset with the judge saying we do have to leave today.
"But we are just going to carry on and be strong and get as much support as we can."
Ms Parker and Ms Llewellyn-Jones had raised concerns in February about the treatment of residents, which sparked an inquiry into standards at the care home.
Following a report by the Care Quality Commission that medicines were not being administered properly there, residents were moved out and Park View closed.
As the pair left the care home, Ms Llewellyn-Jones said they were pleased their sit-in had raised further awareness of the conditions in the care home and their pay dispute.
"We got our voices out there, so we did win in a certain way. Today is not the end," she said.
Mr Chapman and his wife, Anna, who run Ashley Residential Care Ltd based in Torquay, were unavailable for comment.