Virgin Challenger takes to the seas again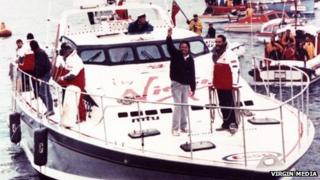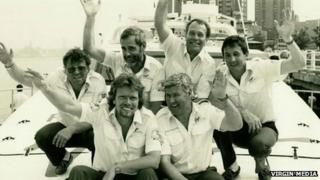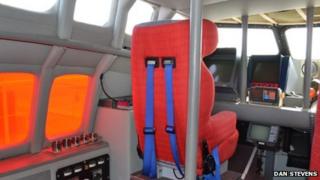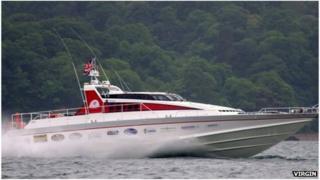 Virgin Atlantic Challenger II, the boat that broke the Atlantic sea-crossing record in 1986, has been restored to its former glory after being found languishing in a Majorcan boatyard.
Plymouth boatyard owner Dan Stevens and his team spent two months restoring Challenger II.
Earlier they moored up in Fowey, Cornwall, reuniting crew members from the 1986 and their famous backer, Virgin boss Sir Richard Branson.
Mr Stevens, spotted the 72ft (22m) Challenger II for sale in Majorca for about £250,000 last year.
Its two 2,000HP engines engines needed fettling, its paintwork was tatty and the hydraulics, crucial for controlling the boat at its top speed of 45 knots, needed repairing.
"Now it's as good as new," said Mr Stevens as he prepared to guide the Challenger II from Plymouth to Fowey.
He declined to say how much the restoration cost, but he believes the boat is good for more record breaking.
"She has a nice feeling about her and she's more than capable of 45 knots," he said.
The boss of Seahawk Workboats in Plymouth plans to race her in the Cowes to Torquay race at the end of September and the round-Britain race next year.
"Everyone thought I was daft when I bought it, but I'm crazy about boats," he said.
"I just did not want it to go to scrap.
"It's great to bring her back into British waters. I'm just really happy that I was able to save such an iconic boat."
The first Challenger, commissioned by Sir Richard Branson to win the Blue Riband Transatlantic Challenge, sank off Cornwall in 1985 on its first attempt.
'Huge thanks'
But the next year, Sir Richard in Challenger II beat the record by two hours in a time of three days, eight hours and 31 minutes.
Sir Richard was denied the official Blue Riband trophy because he had stopped to refuel and his vessel did not have a commercial maritime purpose.
The SS United States' hold on the trophy was not broken until 1990, when the 243ft (74m) catamaran Hoverspeed Great Britain completed the crossing with an average speed of 36.65 knots.
Challenger II was sold in the late 1980s, reportedly to a sultan and later to an English owner, and spent about seven years moored in Majorca until Mr Stevens bought her.
Sir Richard, who brought the original crew together for the trip to Fowey, gave "huge thanks" to Mr Stevens and said the "heart and soul" had been put back into the vessel.
"From what I understand the boat was languishing in a yard, and thanks to the wonderful efforts of Dan it has been restored to its former glory," he said.
"It was lovely to open it up to full throttle, the heart and soul is back in the boat, speed was what she was built for.
"There were hundreds of people lining the shore to greet us, it was like we had crossed the Atlantic again, and if people want to see it they can come to Fowey where it will be on display."