Plymouth care home workers stage sit-in demo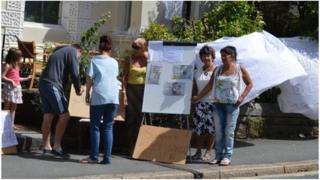 Two former workers at a closed Plymouth care home are facing eviction after staging a sit-in over lost earnings.
Rosemary Parker and Launa Llewellyn-Jones lost their jobs after reporting concerns about how elderly residents at the Park View home were being treated.
They were awarded £40,000 between them for loss of earnings and unfair dismissal by an employment tribunal.
Park View closed last month after residents were moved out by the city council's safeguarding team.
'We are owed'
It followed a report by the Care Quality Commission that medicines were not being administered properly there.
Since winning their tribunal, the two women have not been paid and so decided to take matters into their own hands and stage a sit-in at the home.
Ms Parker and Ms Launa Llewellyn-Jones, who have been occupying the Park View home Tuesday, have now received an eviction notice from the owners Nick and Anna Chapman.
They are due to appear at Plymouth County Court on Tuesday.
The Chapmans, who run Ashley Residential Care Ltd based in Torquay, have been unavailable for comment.
Ms Parker and Ms Launa Llewellyn-Jones have said they will continue their sit-in for as long as it takes to get their money.
At the home, which is now decked with sheets demanding their money, Ms Llewellyn-Jones said: "We are being told to take civil action but he knows we are owed the money.
"It's an appalling way to way to treat people."