Grand Western Canal re-oxygenated after fish deaths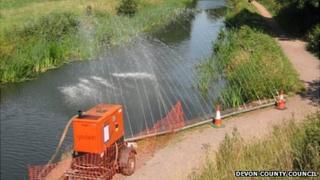 A section of canal in Devon has been re-oxygenated after "several hundred" fish died when oxygen levels in the water dropped.
Roach and pike died in the Grand Western Canal following a natural algal bloom, which expanded during the recent heatwave and caused a drop in oxygen.
Devon County Council has sprayed water onto the surface of the canal to increase the levels.
People are being asked to report any further deaths to the authority.
A spokesperson said: "The problem was caused by a natural algal bloom that grew towards the end of the recent spell of hot and sunny weather.
"When the sunny spell ended and the weather turned cloudy, the algae stopped producing as much oxygen, but continued to deplete oxygen levels at night, leaving fish struggling to survive."
The council said it had used spray bars, which were steel tubes with holes connected to a pump.
The water sprayed from the bars landed as mist and helped to increase oxygen levels, it added.
The Environment Agency provided the authority with the equipment.
In 2014, the canal, which is more than 11 miles (17.7km) long, will celebrate its 200th anniversary.