Triple amputee Mark Ormrod given bionic prosthetics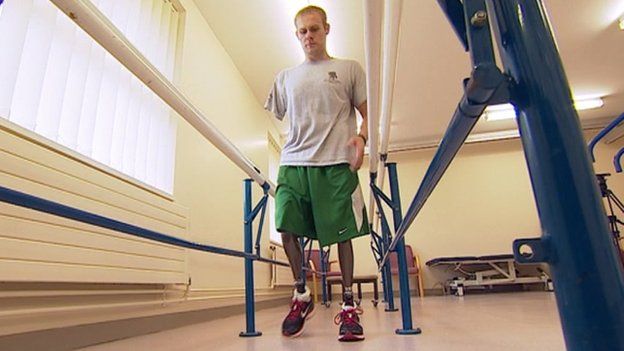 A former Royal Marine from Plymouth who lost three limbs in Afghanistan has been given two "bionic" legs.
Mark Ormrod's legs and an arm were blown off in a landmine explosion on Christmas Eve 2007.
"Because these are more stable, I'm more confident I'll be able to carry my kids about and help out more around the house," Mr Ormrod said.
He and his wife, Becky, have three children, including a four-week old baby girl.
Mr Ormrod estimated the prosthetics would cost £115,000 and feared he may need to remortgage his home to pay for new leg, but additional money was diverted to the NHS for veterans.
He will be fitted with the Genium prosthetics at Plymouth Community Healthcare's Thornberry Centre.
Manufactured by a German company, Ottobock, a microprocessor in the prosthetic allows amputees to stand naturally, walk with a more natural gait, climb up and down stairs, run, ski and cycle.
Related Internet Links
The BBC is not responsible for the content of external sites.