TripAdvisor removes fake Brixham restaurant Oscar's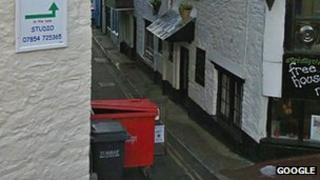 A "fake" French restaurant in Devon has been removed from a travel review website after it emerged it did not exist - despite nine positive reviews.
Oscar's Restaurant was ranked on TripAdvisor as number 27 of 64 food establishments in Brixham.
Eight of the reviews rated it as "excellent" and one was rated "poor".
TripAdvisor said it was "absolutely committed" to ensuring content remained accurate. The person behind the listing was not available for comment.
'Sorcery'
On the website on 23 July, the restaurant was described as a "restored and converted fishing trawler 'phantom class' moored on the beautiful Brixham quayside".
One comment, posted on 19 July, makes reference to the owners Colette and Alfredo - two names which also feature in the film Ratatouille.
It said: "The big surprise here was what Colette and her staff do in the kitchen, something bordering on sorcery.
"The most amazing meal my family and I have ever had."
The restaurant was listed as being in New Quay Lane.
'Slip through cracks'
Some of the comments said tables for Fridays and Saturdays "are booked well into 2014" and it was "good value for money".
One comment, posted on 20 July, stated it was a "spoof, as are the reviews" and it "does not exist".
Lydia Stone, from the English Riviera Tourism Company, said she was not aware of any restaurant called Oscar's in Brixham.
A spokesman from TripAdvisor said: "Upon investigation, as this property didn't meet our listing guidelines, the listing itself has been removed from TripAdvisor.
"With over 70 pieces of content coming in every minute occasionally a review or business that does not meet TripAdvisor's guidelines may slip through the cracks.
"In these rare cases, our members can report the material to us."