Devon and Cornwall custody death rates highest, says IPCC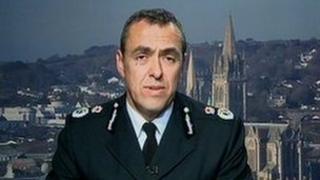 More people died in or following custody with Devon and Cornwall police than any other force in the country, new figures have revealed.
An Independent Police Complaints Commission report said there were three custody deaths in 2012/13, the highest in England and Wales.
There were 10 deaths following all Devon and Cornwall Police contact, including suicides.
The force said it was "keen to learn the lessons from such incidents".
The total of 10 deaths - which also include traffic accidents and shootings - was the third highest, after the Met and Greater Manchester forces.
Chief Constable Shaun Sawyer said: "Any death following police contact is of concern to us and for the families involved it can be devastating.
"We are always keen to learn the lessons from such incidents. As well as an internal investigation, they are always referred to the IPCC for an independent assessment of our action as a matter of course."
Challenging environment
Four of the 10 deaths have been assessed by the IPCC, which concluded that no-one was responsible and no action should be taken against any officers.
Mr Sawyer said: "Some detainees enter custody with existing or emerging health problems.
"Officers and staff receive training and guidance on how to effectively identify and respond to such issues which they do extremely effectively in the vast majority of cases, in what is often a challenging and difficult operating environment."
The report reveals there were 15 deaths in or following custody across all police forces, the same figure as the previous year.
There were no fatal police shootings for the first time since the IPCC started work in 2004 and 64 apparent suicides following police custody, up from 39 the previous year.
It also found that road traffic fatalities had increased from 19 to 30.
There were 21 other deaths following police contact that were subject to an IPCC independent investigation, down from 47 the previous year.
Dame Anne Owers, Chair of the IPCC, said: "It is welcome that the number of those dying in police custody has significantly reduced - less than half the number before the IPCC was set up.
"However, it is of continuing concern that a high proportion - almost half - were known to have mental health issues, as were nearly two-thirds of those who apparently committed suicide within two days of release from custody."