Linhay community learning centre offers craft skills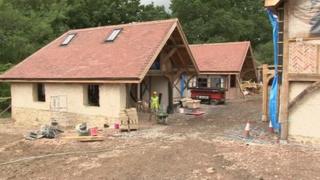 A community learning centre near Exeter is offering volunteers the chance of working with master craftsmen to learn new skills.
The Linhay centre is being built on a 50-acre site next to Haldon Forest, by social enterprise charity Embercombe.
Volunteers can learn cob building, lime rendering, traditional stone walling and carpentry.
Once completed, the centre will offer a range of courses including bee keeping, music and pottery.
'Second chance'
The majority of the construction is being carried out by the Embercombe Building Company, which employs former addicts and offenders to give them "a second chance".
"This building and other projects are about 'upskilling' - about building people more than they're about building a building," Embercombe's managing director Phill Ireland told BBC News.
The charity said it hoped to complete the two-storey Linhay centre by October, so it would welcome volunteers with or without and building experience, adding that families with children over the age of seven would also be welcome.
The Embercombe site also has a wildlife lake, woodland, apple orchard and two yurt villages which can accommodate up to 49 people, a catering kitchen and conference hall.