Rally held against Great Torrington hospital scheme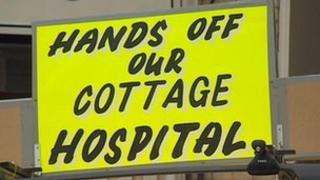 People fighting plans to temporarily close the beds at a Devon community hospital have staged a protest.
The 10 beds at Great Torrington hospital are being shut during a six month trial where patients will be treated at home instead.
The Northern Devon Healthcare NHS Trust said "the pilot will test an exciting and innovative model of care".
Margaret Brown, a local councillor, said she was "very pessimistic about the whole thing."
'Remain independent'
Mrs Brown, a Torridge independent councillor, said: "How are they going to open up beds once they have been closed for six months? I don't think that will happen. That is my fear.
"The nurses up there are fabulous. They can't do enough for you. There is total personal care, it's wonderful."
The protest took place through the town, led by the Torrington Town Band, ending outside the hospital itself.
A joint statement by the Northern Devon Healthcare NHS Trust and the Northern, Eastern and Western Devon Clinical Commissioning Group said the pilot was "aimed at enabling more people to remain independent in their own homes".
The statement also said a local task group had been set up to listen to the views of local people.
The six-month trial begins in September. The NHS trust said the number of community nurses would be increased during the pilot project.