Payday loan website adverts 'banned in Plymouth'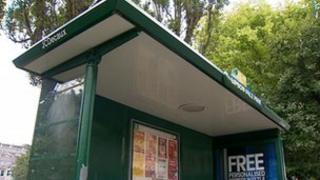 Adverts for payday loan websites are to be banned on billboards and bus shelters in Plymouth, and access to them prevented on computers owned by the city council.
The Labour authority said it wanted to protect people from "spiralling debt".
Access to the 50 most popular websites would be blocked on its network, including on library and community centre machines, the council said.
The industry's association said the move would restrict customer choice.
'Unacceptable face'
Payday firms offer short-term loans at high interest rates. The industry is worth £2bn annually in the UK.
The council said it estimated there were about 5,000 people with such loans in the city.
Community development council cabinet member Chris Penberthy said the move was being made because city advice agencies were "taking calls daily from people who are running up huge debts that are causing stress and hardship to them and their families".
He said: "We need to protect people and make it difficult for payday loan companies to operate in our city."
Steve Meakin, Money Advice co-ordinator for Devon and Cornwall, and chairman of the Institute of Money Advisers, said it was "difficult to overestimate the harm payday loans are causing to Plymouth residents".
He said: "Plymouth City Council's initiative is really welcome and represents a constructive first step in combating the unacceptable face of the financial services industry."
The Consumer Finance Association, the principal trade association of short-term lenders in the UK, said its members "operate to high standards which protect consumers at all times".
Chief executive Russell Hamblin-Boone said such loans were "not right for everybody".
He said: "Our members apply the same level of expertise to assessing creditworthiness as banks and credit card providers and will not lend to you if they think it will make your financial situation worse.
"Research shows that 85% of payday customers have no trouble paying back their loans, so the council's belief that the loans are detrimental to those that take them is misplaced and not based on evidence.
"The council is effectively denying choice to local residents without fully understanding either the short-term lending industry or the way people are managing their finances in 2013."