Important Devon heathland 'in tinder-box condition'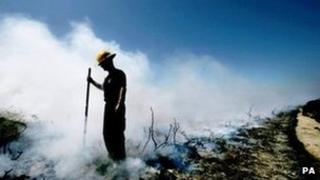 Important heathlands in Devon are at risk of fire because of "tinder-box" conditions after days of hot, dry weather, wildlife experts say.
Devon Wildlife Trust and the Devon and Somerset Fire Service urged people to be careful in the countryside.
They warned that, as well as posing dangers to people and farmland, rare species' habitats could be devastated.
People have been urged not to drop cigarettes, use barbecues or leave glass or bottles on heathland.
They should also report any fire to the emergency services immediately, the organisations added.
'Habitat decline'
Steve Hussey, from the wildlife trust, said: "Wildfires can be devastating for wildlife, as well as potentially dangerous for people and damaging to farmland.
"Heathlands, with their coverings of dry gorse and grass, are particularly vulnerable when the weather remains hot for several weeks.
"At present, many heathlands are in tinder-box condition.
"This is a habitat which has declined by more than 80% in the last 200 years.
"The few remaining heaths are key places for rare wildlife, which includes Dartford warblers, common lizards and adders."
Paul Slaven, of the fire service, said: 'We want to remind people to be mindful of the impact and damage that wild fires have on the environment.
"These fires also a have a further impact, tying up valuable fire resources for some time."