John Nettles records Exeter Cathedral's audio guide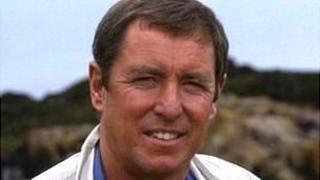 Television actor John Nettles has recorded an audio guide for Exeter Cathedral.
The tour includes information about its architecture and history.
Mr Nettles, who has appeared in Bergerac and Midsomer Murders, said it had been a "steep learning curve" finding out how central the cathedral is to the community.
The recording also includes the cathedral's choir and peal of bells.
Mr Nettles, who lives in Devon, said: "The problem of creating an audio tour of the cathedral is there is so much there, not only architecturally but also in the history."
Cathedral Dean, the Very Reverend Jonathan Draper, said: "I am thrilled that John Nettles has lent his voice and his time to support the cathedral in this exciting venture."