Flip-flops 'ban' for Plymouth City Council staff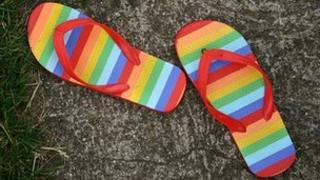 Council workers have been told not to wear flip-flops and other inappropriate clothing to work during the hot weather.
Plymouth City Council told staff they "shouldn't be showing too much flesh and flip-flops are a definite no-no".
Unions said staff were working in "uncomfortably hot" offices.
The council said there were "no set rules" but it had asked staff not to wear flip-flops in the "polite reminder".
'Grown-up enough'
The advisory said: "It's fine being cool in the office, but please remember this is a business environment and we expect people to wear appropriate clothing.
"We shouldn't be showing too much flesh and flip-flops are a definite no-no!
"There are no set rules. We think everyone is grown-up enough to choose their own clothes."
The union, Unison, said it was made aware workers would be given "basic guidelines to ensure staff understood what was expected".
A spokeswoman said: "Our members consider what has been published is being interpreted as a directive by managers, and that Plymouth City Council is not taking an appropriately pragmatic approach to the challenges our members face conforming to their managers' expectations in the current weather conditions.
"Members report to us that they are working in offices that are uncomfortably hot through the day, despite the provision of fans, which are merely serving to move hot air around their workplace."
A council spokeswoman said: "We all want to enjoy the hot weather but, as in any professional organisation, staff need to dress appropriately.
"There are no set rules but we've asked, for example, that people don't wear flip-flops.
"The issue usually comes up when we have good weather so this was a polite reminder."