Road kill seagulls 'drunk' on flying ant acid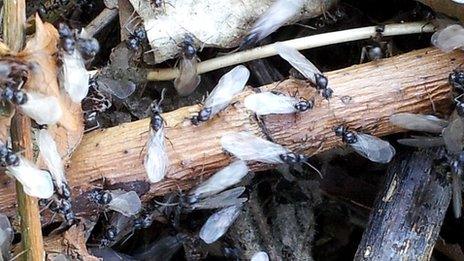 "Drunk" seagulls have been killed by cars after gorging on huge numbers of flying ants which have emerged early in Devon because of the heat.
Dead sea birds have been reported in a number of places, including Paignton, Plymouth, Teignmouth and Ilfracombe.
Some ants can produce formic acid which can "stupefy" the gulls.
"That isn't so good for the birds - it could leave them a bit drunk," Dr Rebecca Nesbit, an entomologist with the Society of Biology said.
"Although formic acid can be toxic to birds it is more likely that they are just too hot and full."
Viv Gregory, who lives in Knowle, said she was shocked to see dozens of birds on the road into Ilfracombe on Thursday evening.
"As I started driving up the hill, the seagulls were all over the place, pecking in the road," she told BBC News.
"It reminded me of Alfred Hitchcock's [film] The Birds because there were so many of them - I've never seen it before.
"They're in the road and they just don't want to move."
Dr Nesbit said if the gulls had consumed sufficient levels of formic acid, it could explain why they were not flying off as vehicles approach.
She said the society's flying ant survey had already shown Devon was a "hot spot" with swarms of flying ants (Lasius Niger) which have been emerging up to two weeks earlier than normal.
"And that is absolutely down to the hot weather," Dr Nesbit told BBC News.
"Last year the Society of Biology received well over 6,000 reports in the first flying ant survey - and this year we look set to beat that."
Tony Whitehead, spokesman for the RSPB in the South West, said: "I'm not an entomologist, but what I do know is that gulls just love flying ants and as they come out of the ground the birds will feast on them early in the morning and late in the evening."
However, Plymouth University entomologist Peter Smith said while the formic acid in flying ants could be one possible explanation for the birds' apparent lethargic behaviour, there was another.
"Gulls are great opportunists and if there's an abundance of ants and insects, they'll just get stuck in and will be so focussed on eating, they won't move for the cars," he said.
Related Internet Links
The BBC is not responsible for the content of external sites.