Hemerdon mine poses 'minimal' Colebrook flood risk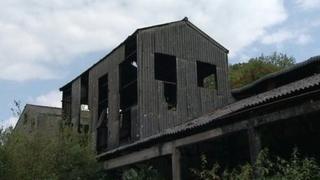 A new tungsten mine will not pose a flooding threat to a Devon village, its owner Wolf Minerals has said.
The Australian-based company is due to begin operations at Hemerdon next year.
Hemerdon has been classed as a Category A mine by the Environment Agency because of a potential flooding danger to Colebrook if its waste facility or reservoir failed.
But Wolf Minerals said the risk to Colebrook - which flooded several times last year - was "absolutely minimal".
"There is a very, very, very small risk that a breach could possibly occur at some time," Wolf's operations manager Jeff Harrison said.
"But we believe this is going to be a well-engineered and constructed tip and the risk of it failing or breaching is zero.
"I wish I could guarantee it would never happen - but nobody can really say that."
However, the Environment Agency said although "unlikely", there was the potential for a "major accident".
It has set up a public consultation for people to register any concerns which will run until 23 August.
In December, about 40 properties in Colebrook flooded when heavy rain overwhelmed the drains and some families have only recently returned home.
"It's good to be home, but now as well as the constant worry about the weather, there's also a new worry about the mine - it's just another big headache," flood victim Janet Luke said.
Flood alleviation work is due to begin in the village this autumn, which will include diverting some surface run-off water into the Tory Brook.
Wolf Minerals has also applied to the Environment Agency for permits to abstract and discharge water into the brook, but Mr Harrison said any pumping of excess water would be "periodic", carefully controlled and should not impact on Colebrook.
"If there's a high risk of flooding downstream, we would not be pumping water out of the pit into the river," he said.
The mining operation could create more than 200 jobs, but the Environment Agency said any economic benefit would have no influence on its decision.
"There may be an economic driver, but we have very strict criteria which will have to be met," a spokesman said.
An action group has been set up by Colebrook residents and local councillors and about £30,000 has been secured through the government's community pathfinder scheme for interim flood prevention measures.
"There's been a real effort to sort things out and make it better, but I'm worried the mine could mean we'll be just as bad as before, if not worse," Mrs Luke said.