River Avon 'could be stripped' of fish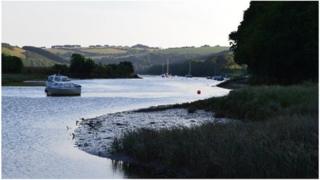 Fish are being "stripped" from a south Devon river owned by the Duchy of Cornwall, local conservationists fear.
They say commercial netters are targeting the River Avon, which opens into a bass nursery at Bigbury Bay.
The Aune Conservation Association and the Avon Estuary Forum have called for the Duchy to stop the fishing.
The Duchy said it did not allow commercial fishing on the river and it was working with local agencies to stop the practice.
The tidal section of the River Avon, which stretches about two miles from Bigbury Bay to Aveton Gifford, is owned by the Duchy.
Increase in activity
It is part of the Duchy 's 131,000 acre estate which gives Prince Charles most of his income.
There is no public right to fish the estuary, but it has been fished by commercial netters for years, according to conservationists.
And they say there has been an increase in activity over the last two months.
Dr Stuart Watts, chairman of the Aune Conservation Association, said: "They chase the fish up the river on the high tide.
"The river will be completely stripped bare if it carries on and people are really upset about it."
John Coates, chair of Avon Estuary Forum, which includes the Duchy, said: "There is a strong unwillingness by the Duchy to take action.
"There's just huge inertia on the subject and local people are feeling unsupported."
A Duchy spokeswoman said: "The Duchy is currently in ongoing discussions with Devon and Severn Inshore Fisheries Conservation Authority (IFCA) and the Marine Management Organisation (MMO) as to what action can be taken in response to the issue of alleged commercial fishing on the River Avon."
The MMO, the Environment Agency and IFCA have all made inspections of fishing boats on the estuary, but they say they do not have the power to enforce the Duchy's fishing rights.
The MMO said it was "looking at the possibility" of writing to netters advising them of the Duchy restrictions.
Tim Robbins, chief officer of IFCA, said: "All agencies will continue to work together and respond where possible to information received from members of the public."