Female surgeon numbers slower to rise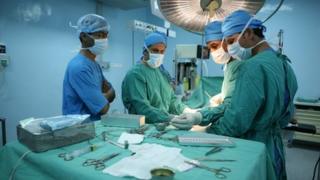 The reason there are fewer women surgeons than men could be because they think they will be less likely to succeed, research has claimed.
The University of Exeter said the number of women in most specialties has risen substantially but the rise in female surgeons was "more modest".
Statistics from the Royal College of Surgeons (RCS) show only 9% are women.
With a 1% rise every four years, it could take 160 years for equal representation, researchers found.
Changing perceptions
The research, which took two years to complete, included a study of 360 female surgeons and surgical trainees and another of 240 male and female trainees.
The slower rise in female surgeons has previously been attributed to the demanding nature of a surgical career, requiring "sacrifice" and a lower career motivation among women.
Helena Wilson, an ear nose and throat surgical consultant at the Royal Devon and Exeter hospital, said: "One of the difficulties I found at an early stage was I didn't have role models.
"More are emerging as time goes by. That's become less of an issue. Do I feel anyone has held me back? No, I have had massive support throughout."
Mrs Wilson said she was working part-time while her three children were still young.
But the research - carried out in collaboration with the RCS and Women in Surgery - suggests the decision not to pursue a career in surgery is not due to a lack of ambition or willingness to work long hours and sacrifice family life.
It suggests it is more likely to be because women will direct their ambition towards careers in which they perceive they are likely to succeed.
It said women see surgery as a "stereotypically masculine career" so are therefore likely to think of a surgical consultant as a man, adding that the perception was likely to be reinforced by actual encounters with surgical consultants who are predominantly male.
The report concluded that the "secret" to attracting more women to surgery was less about changing the career and more about changing women's perceptions that they have what it takes to succeed.