Sainsbury's Exeter delivery centre postponed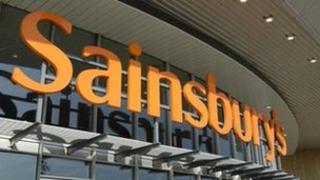 Supermarket chain Sainsbury's has postponed plans to open a distribution centre in Devon that would have created 450 jobs.
The depot, near the Skypark development and Exeter Airport, would have supplied stores across the south-west.
Sainsbury's, which was granted permission in 2011, said there was "no immediate requirement for a depot" following a review.
East Devon District Council leader Paul Diviani said he was "disappointed".
Vince Prior, head of property investment for Sainsbury's said: "Since receiving planning approval in September 2011 we have invested significant sums in preparatory works to deliver a fully serviced and remediated site."
But Mr Prior said that following a review of its logistics network "we have concluded that there is no immediate requirement for a depot at this location at this time".
He added that there could be "future demand for a depot in this location".
Regional economist Kevin Butler, said it was a "setback, but not a disaster".
"It's expected the Skypark will create around 6,500 new jobs, so Sainsbury's investment [in the area] represents less than 10% of that total," he said.
Mr Butler added the Exeter area had been performing strongly, despite Britain's troubled economy.
East Devon District Council leader Mr Diviani said: "If businesses did not review their operations constantly, they would inevitably stagnate and whilst I am disappointed to hear of a delay in the site being progressed as originally envisaged, this reassessment is understandable. "