Royal Mail staff walk out in 'bullying' claims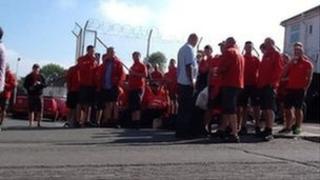 Almost 100 postal workers have walked out of a delivery office in Plymouth following claims staff were being "intolerably bullied and harassed" by management, a union has said.
The Communication Workers Union said all workers had taken part in the unofficial walk out at the North Central Delivery Office on Thursday.
It added staff would be balloted for official industrial action.
Royal Mail said it was "fully committed" to try and resolve concerns.
In June, about 100 workers at West Park Delivery Office walked out over "similar concerns", a spokesman from the union said.
'Wake-up call'
Chris Webb, divisional rep for the union, said: "Postal workers want to be able to come into work, be treated fairly and do their job.
"The tensions spreading across the city should be a wake-up call to local management that they need to change their approach."
Mr Webb said the walk out lasted about 40 minutes on Thursday morning. However, Royal Mail said it lasted about 20 minutes.
Royal Mail's Val Bodden said: "Staff have now returned to work and we will be delivering all mail today.
"Royal Mail is fully committed to the process of trying to resolve concerns of postal workers based in Plymouth by continuing to follow the national jointly agreed framework with the Communication Workers Union."