Bishop of Exeter Michael Langrish retires from office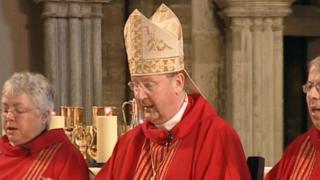 The Right Reverend Michael Langrish has retired after 13 years as the Bishop of Exeter.
His final communion at Exeter Cathedral on Sunday, followed a special service on Saturday attended by about 2,000 people.
A new bishop has not yet been appointed - a situation which Bishop Langrish described as "far from ideal".
A public consultation is under way, but it will be about six months before the name of the new bishop is known.
The process of appointing a replacement involves six members from the Diocese of Exeter suggesting a "candidate" who has to be approved by the Queen and prime minister.
'Radical' downsizing
"I think it's very far from ideal indeed. I think a name will be known before Christmas, but it'll probably be sometime around Easter before a new bishop is in post," the bishop told BBC News. "I hope it's not going to be too disruptive."
Bishop Langrish said one of his first jobs after retiring would be sorting out "clutter" before he and his wife could move.
"Tomorrow we have to start downsizing very, very radically," he said. "We've had 45 years of married life, lived entirely in a house that goes with the job.
"We're moving into our own home for the first time, so 45 years of clutter will have to be sorted."