Michael Gove: Route 39 free school 'will provide more choice'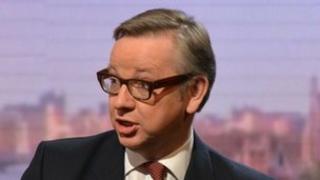 A free secondary school criticised as unnecessary will provide more choice, Secretary of State for Education Michael Gove has said.
The Route 39 Academy is due to open in September in a former primary school at Higher Clovelly in north Devon.
Holsworthy Community College head David Fitzsimmons said the school would be a waste of public money at a time when class sizes in the area were falling.
Route 39 is due open with six teachers and about 60 students.
'Undermines policy'
The school eventually hopes to take up to 500 pupils up to age 16, and also provide sixth-form courses.
Mr Fitzsimmons said he was concerned Route 39 would take government education funding away from other schools.
He said he was already losing 12 pupils next year and that he had had to make staff redundant as a result.
He said: "This school, in our view, undermines the original intention of the free school programme, which is to provide additional capacity in areas where schools are heavily oversubscribed.
"Were we oversubscribed in this area, we wouldn't have a problem with the proposal."
Speaking during a two-day visit to the county, Mr Gove said: "An additional school in north Devon will give parents a wider range of choices and will also be a complement to the already existing good provision."
Route 39 principal Joss Glossop said the project was "absolutely not a waste of public money".
She said: "It provides a new choice for education and investment for this area."
Free schools allow groups of local parents, teachers or charities to establish their own schools. Like academies, they are outside local authority control, receiving money directly from the Department for Education.
They are able to set their own curriculums, term dates and timetables.
Those behind Route 39 eventually want it to move permanently to Buck's Cross, near Clovelly.