Exeter International Airport sold to Rigby Group PLC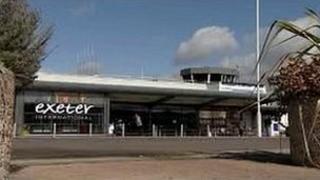 Exeter's airport has been sold by Balfour Beatty for an undisclosed sum to Patriot Aerospace, the aviation division of Rigby Group PLC.
Balfour Beatty bought the airport in January 2007 from Devon County Council for £60m. It employs 305 staff.
Rigby Group said the future of the airport's staff was secure and it hoped to add more routes.
Balfour Beatty chief executive Andrew McNaughton said the deal would "ensure the future viability of the airport".
Sir Peter Rigby, chairman of Rigby Group, said: "We believe in the importance of regional airports, their value to the local and regional communities, and of their important contribution and place in the local economies."
The company already owns Coventry Airport, British International Helicopters, based at Newquay, and a string of hotels.
Sir Peter said Exeter International Airport's existing 40 routes would be protected and he would look to add new ones.
He said he wanted to work with Exeter's main carrier Flybe and also wanted to encourage other airlines to fly from the airport.
Flybe told the BBC it "welcomed" the purchase.
Founded in 1975, the Rigby Group has interests in technology, aviation, property, hotels and investments.
Managers said it employed more than 6,000 staff worldwide.