Woman admits dog attack offences after girl injured in Torquay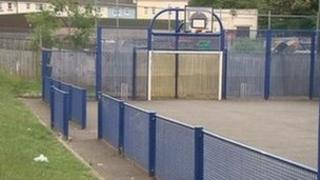 A woman whose dog attacked a teenage girl in a play area in south Devon has admitted having a dangerous animal out of control in a public place.
The girl was bitten on her lip and arm during the attack in Staddon Gardens, Torquay, on Friday evening. She needed seven stitches to her top lip.
Appearing at Torquay Magistrates Court, Jennie Linden, 31, of Staddon Gardens, also admitted resisting arrest.
The court heard the dog had escaped from a garden.
Linden also admitted being the owner of a dog that was subject to a dog control order, and allowing it to be in a public place without being muzzled and kept on a lead.
Differing accounts
She told the court the dog had escaped from her garden and, while unsupervised and without a muzzle, it had bitten the girl.
Linden is due to be appear at Exeter Crown Court next month.
Despite pleading guilty, her description of events leading up to the attack was different to that of the victim's.
The victim said the dog had attacked without warning.
Linden said the dog had been provoked by the teenager while she was encouraging it to play.
The court may order a Newton hearing, when the defence and prosecution dispute the facts on which the court would impose sentence.
The dog was seized by officers after the attack.
Linden was released on bail.