Exeter boy hit by car 'seriously injured'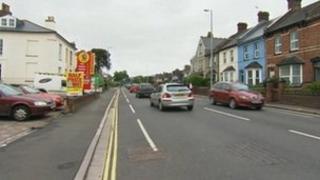 A 12-year-old boy who was hit by a car after he fell off his bike is being treated in hospital for serious head injuries.
The boy fell into the path of the passing car after trying to mount the kerb on Alphington Road, in Exeter.
He was taken to the Royal Devon and Exeter Hospital before being airlifted to Frenchay Hospital, in Bristol.
The 29-year-old driver of the car, which hit the boy on Saturday afternoon, was not injured.
Police are appealing for witnesses to come forward.