Plymouth City of Culture bid failure 'disappointing'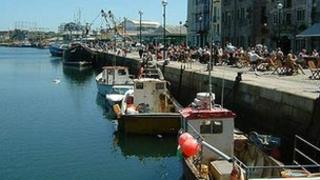 People behind Plymouth's bid to become the 2017 UK City of Culture say they are disappointed the city failed to make the shortlist.
Eleven bids were originally put forward, with each hoping the title could bring major arts events, media attention and economic regeneration.
But Plymouth failed to make it into the final four.
One organisation involved in the bid, Plymouth2017, said it was a "huge shame".
The UK government created the title in an attempt to replicate the success of Liverpool as European Capital of Culture in 2008.
Londonderry in Northern Ireland will be the UK City of Culture in 2014.
'Onwards and upwards'
Plymouth2017 - run by the Plymouth Culture Board, with the partnership of Plymouth City Council and the city's university - said the bid meant "Plymouth is ready now to be a cultural hub... this has proved it".
Plymouth City Council, which pledged £20,000 to the bid, tweeted: "It was disappointing not to make the City of Culture shortlist but we have a fab city and big plans."
The leader of the Labour-run authority, Tudor Evans, said it was "disappointing news", but it was a "great effort from the team".
Theatre Royal chief executive Adrian Vinken, who was also involved in the project, said: "It is important we remain proud of having put together a really credible bid, true to the Plymouth we all know and love."
The university also pledged £20,000 to the bid.
The four finalists are: Dundee, Hull, Leicester and Swansea Bay.
The panel which looked at the bids is chaired by former TV executive Phil Redmond.
The finalists have to submit an updated bid by the end of September. The winner will be announced in November.
The title does not receive direct funding from the government.