Private firm to run Plymouth ambulances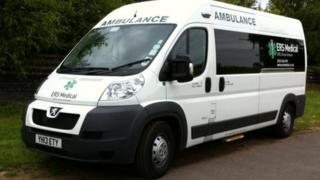 Non-emergency ambulance transport will be handed to a private firm that specialises in hazardous waste disposal.
Following a "thorough and robust process" SRCL Limited won the contract, said Northern Eastern and Western Devon Clinical Commissioning Group.
Health union Unison predicted "confusion" among patients over who is picking them up.
The commissioning group said it did not think that would be an "issue".
The service in north and east Devon has already been handed to NSL, formerly car park firm NCP.
'Cohesive service'
Rebecca Harriott, chief officer for the commissioning, said: "We need to make sure it is as cohesive a service as it can be."
The service, which provides transport to and from medical appointments for less mobile patients, will continue to be provided by the South Western Ambulance Service NHS Foundation Trust until 1 October.
SRCL, which offers "waste training, on-site waste management services and waste auditing services", has allocated the Plymouth contract to subsidiary ERS Medical.
The company has won a number of non-emergency patient transport services contracts across the country.
Simon Moss of Unison said: "It comes down to cost. Our concern is that these companies are there to make a profit and services will suffer in the long run."
Brendan Fatchett, managing director at ERS Medical said: "We look forward to serving the community in Plymouth and the wider Devon area to bring the same high levels of service to the region as we have elsewhere across the UK."