MP criticises Miss England event held in Devon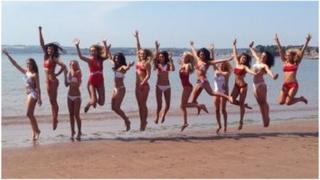 The staging of the Miss England finals in a Devon resort is sending out the wrong message about the area, a local MP has said.
Adrian Sanders, Liberal Democrat MP for Torbay, said there are many good events planned but this one was "an own goal".
The Deputy Mayor, councillor David Thomas, described the event as "a fantastic coup" for the area.
The winner of Miss England will go on to represent the country in the Miss World competition in September.
Mr Sanders said: "There are fantastic events happening in this area. Cycling events, art exhibitions, it's all there, but this one is such an own goal.
"It's about values today, about respecting people as individuals. We judge them on their worth, not on their looks. This flies in the face of that."
About 60 contestants are taking part in the Miss England contest over four days in Torquay, with the final taking place on Sunday night.
Mr Thomas said: "This a high profile international and national event. It's a fantastic coup for Torbay and English Riviera.
"This leads on to the world finals. They are going to be talking about where the national finals were held. The knock on publicity for this event is absolutely huge."
The Miss World competition will take place in Jakarta, Indonesia, on 28 September.