Milk withdrawn after Devon dairy contamination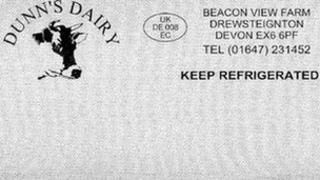 Contaminated milk and cream products have been found at a Devon dairy, public health officials say.
Public Health England and West Devon Council said products from Dunn's Dairy at Beacon View Farm, Drewsteignton, had been affected by cross-contamination or ineffective pasteurisation.
Any products customers have should be disposed of, they added.
Beacon View Farm said it had "a breakdown in the system" and had withdrawn all unused products.
Unused products withdrawn
The contamination was discovered during a joint Public Health England and West Devon Borough Council investigation following an inspection of the dairy which processes about 8,000 litres of milk a week.
The environmental health team has asked the dairy to stop supplying milk and cream products and recall any products supplied.
The dairy was also issued with a notice to stop production.
Environmental health officer Pete Wearden said a number of cases of campylobacter were being investigated.
Symptoms of the bacteria include diarrhoea, cramping, abdominal pain and vomiting between two to five days after exposure.
The dairy supplies milk to doorsteps and businesses across the county, including West Devon, Teignbridge, Exeter, Mid Devon and Torbay.
The milk was marked "UK DE 008 EC", investigators added.
The dairy should not to be confused with Dunn's Dairy of Underdown Farm, Exbourne, Public Health England said.
On its website, Beacon View Farm said: "We have had a breakdown in the system and have had to withdraw all unused products.
"Please do not consume any products you have left, we will issue a full refund to customers affected."