Exeter oil equipment firm gets £4m investment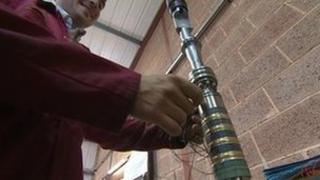 An Exeter firm has received £4m in investment after developing new drilling technology, managers say.
Antech has developed a method of burrowing that allows a drill to turn corners deep underground.
Saudi Arabian oil company Saudi Aramco had made a £2m investment, with UK private investors adding another £2m, Antech founder Toni Miszewski said.
Product development had meant the firm was now employing about 30 people, he added.
Mr Miszewski said success was a result of work that had "happened over a period of time".
He said: "It's the coming together of a plan, and we're really pleased for the company, the team and the area as well."
He added that being based in Exeter had not hindered company expansion.
He said: "We're working in a global industry, so wherever we are we're a little bit away from our customers.
"We're helped that communications have improved over the last few years, so we can attract interest around the world.
"You can find good, strong engineers in all sorts of different places."
Saudi Aramco produces one in 10 barrels of the world's oil.