Braunton villagers suffer phone problems for two months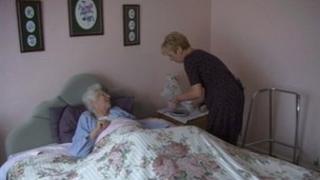 Nearly 30 households in a north Devon village have had landline phones not working properly for up to two months.
Twenty-seven properties in Braunton have reported problems, including landlines being either totally out of order or only working periodically.
One family said they were concerned because their 95-year-old mother needed the line for an alarm system she uses.
BT apologised and said it was dealing with a "particularly complex repair".
Family 'turmoil'
Deborah Wheatstone, whose mother's alarm is affected, said problems started on 13 April and she was initially told it would only take four days to repair.
"It's caused turmoil in the family," Ms Wheatstone said.
"She wears an alarm buzzer around her neck, and that obviously went down when the line went down.
"We've not been told when we'll back on, or been supplied with an emergency line, and BT is still taking direct debits."
Ms Wheatstone's mother, Sylvia Allin, said: "When it's working, I rely on it [the alarm].
"I don't feel as safe without it."
Another resident, Melanie Hopkins, said dealing with her occasionally functioning line had been "very difficult" because it meant that, when she was out at work, she was sometimes out of contact with her elderly mother.
She said: "At times it will take four or five attempts to get the phone to ring out."
BT has apologised for the delay in restoring the lines.
"This has proved a particularly complex repair involving laying of over 120m [395ft] of underground ducting and cabling near a busy road," a spokesman said.
Repairs had been delayed by other nearby building work, he said, but it is hoped services will be restored by the beginning of next week.