Plymouth diesel power stations 'to help green energy'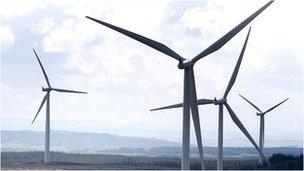 Two diesel power stations planned in Plymouth will compensate for fluctuations in supplies from green energy, say developers.
Green Frog Power got planning permission last year and Fulcrum Power has made an application for a similar power station.
The Devon-based Regen centre for green energy questioned the use of diesel generators.
Both firms said their power stations supported renewable energy.
The application by Fulcrum Power is for a 20 megawatt (MW) Stor (Short Term Operating Reserve) power station on the former Toshiba plant at Ernesettle Lane, which company bosses said would cost "several million pounds".
Its 52 generators will consume more than 1.1m litres of diesel a year, or about one tanker a week.
Merlin Hyman, of Regen SW, said: "There is going to be a need for back-up generation, whether it's for nuclear power, coal power or renewables.
"The question is around the use of diesel rather than gas, which is less carbon heavy.
"My instinct is that it does not make environmental sense. The use of diesel flags up alarm bells."
Climate change awareness group Carbon Sense also said bio-fuels would be more environmentally friendly and appropriate for a project supporting green power generation.
Fulcrum said in its application that fluctuations in supply are "predicted to become greater with the advent of unpredictable renewable generation such as solar and wind".
It added: "The need for reserve will also increase as old oil and coal stations close over the coming years."
It said the plant will "support the increase in renewable energy and the retirement of old oil and coal fired power stations".
The firm added: "Whilst the proposed diesel generators do not constitute low carbon or renewable energy, the nature, scale and function of the proposed development is such that it will support the broader strategy for renewable and low carbon energy."
Fulcrum chief executive Paul Lazarevic said the company "would prefer to burn bio-diesel and will look to do so if possible".
He said: "The current problem with bio-diesel is the varying quality of the fuel."
He added that Fulcrum was working with a Scandinavian company to provide a "true 'green' diesel that we can burn without problems".
The National Grid has predicted the requirement for Stor will double over the next eight years.
A spokeswoman said the flexibility was "very welcome".
She said: "The main factor about why we are seeing an increase in Stor contracts is to help balance the grid system with increased amounts of wind power which, by its nature, is intermittent.
"Also, for quite technical reasons, when the larger nuclear power stations come on line in the next 10 years, we also need this flexible response to provide our safety margins."
Green Frog, which has yet to start its development at Faraday Road, said on its website: "National Grid needs our power to alleviate stresses on the transmission systems, for example when other power stations shut down or when the wind stops blowing."
Fulcrum's application could be considered by Plymouth City Council next month.
Plymouth City Council said all planning decisions were "always made on planning grounds and planning grounds alone".
Related Internet Links
The BBC is not responsible for the content of external sites.