Lottery bid to save Brixham trawler Torbay Lass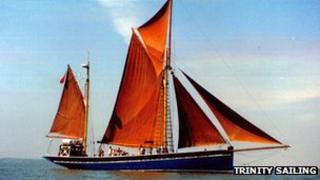 A £900,000 lottery bid has been submitted as part of a project to save a former Brixham sailing trawler.
Trinity Sailing Foundation, based in Devon, is bidding for the Heritage Lottery Fund (HLF) grant as part of a £1.27m restoration of the Torbay Lass.
Part of the National Historic Fleet of the UK's most important vessels, it is based at Tilbury Docks on the River Thames but will leave in September.
Campaigners want to restore the ship in Torbay and open it to the public.
Other vessels in the historic fleet include HMS Victory, Cutty Sark and SS Great Britain.
Six of the vessels in the fleet are former Brixham sailing trawlers and Trinity Sailing Foundation owns and operates three of those.
Struan Coupar, chairman of the foundation, said the application to the HLF was the "first milestone" and the group would need to attract further investment and community interest to complete the conservation project.
An initial decision on the grant bid will be made in September. If that is successful there will be a more detailed application in February 2014, with a final decision next June.
The restoration work is expected to take two years to complete.