Disguised sword belonged to elderly Derriford patient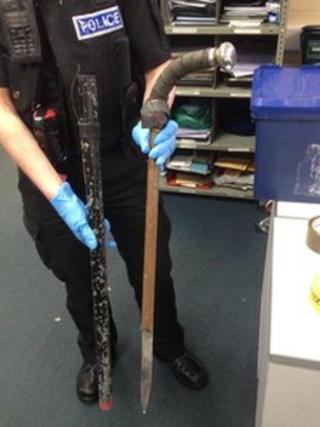 A sword disguised as a walking stick which was confiscated at a Plymouth hospital belonged to an elderly patient who made it as a hobby, staff said.
The sword was brought into Derriford Hospital by an ex-marine.
It is among a number of knives and sharp implements taken from patients over the years which have now been handed to police to destroy.
Andrew Davies, the hospital trust's security chief, said the items had not been taken in "high-risk" situations.
Mr Davies said the sword was taken from "an elderly patient who had retired from the services" and who made them "as a pastime".
He said when the sword was confiscated, the patient said: "That's OK I've got a few more at home and I can always make another."
'Self-harming'
Mr Davies said the hospital had a zero-tolerance policy when it came to patients having potentially dangerous objects in their possession.
"We don't want the risk of them becoming potentially violent or having an accident or self-harming," he said.
Most of the knives handed over to police were found by nursing staff going through patients' possessions.
Mr Davies said the levels of aggression demonstrated by some patients and visitors towards hospital staff were "too high" but thankfully the hospital had not any incidents which involved weapons.
PC Sally Cliff, from Devon and Cornwall Police, said she was shocked at the variety of sharp implements found.
She said the sword was "quite a different item and something we definitely don't want out in our community."