Debbie Brewer death: Cancer campaigner 'inspirational'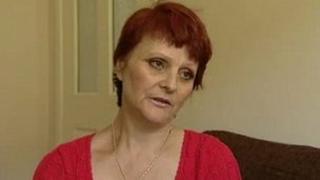 A woman who has died of cancer after campaigning about the dangers of asbestos has been described as "brave, dynamic and an inspiration".
Debbie Brewer, 53, from Plymouth, was diagnosed with mesothelioma, a cancer of the lining of the lung, in 2006.
She developed the illness through contact with her father, a Devonport Dockyard worker, when she was a child.
She died over the weekend after entering the city's St Luke's Hospice on 31 May.
William James Searle, a fellow mesothelioma patient and member of the South West support group, said: "She was brave, dynamic and an inspiration to all of us sufferers.
"She campaigned tirelessly here in the UK and abroad."
His wife Anne Lethbridge Searle said: "She was just an ordinary woman who had got this terrible cancer who wasn't frightened to stand up and say 'I'm here, I want to be counted, I want to help others in this way'.
"I think that's a kind of inspirational thing."
Speaking to the BBC on Friday, Mrs Brewer, a mother-of-three, said she believed her admission to the hospice was just a "blip" and she was "trying to get her strength back".
'Continue to fight'
She also said awareness still needed to be raised about her condition and the substance that caused it.
"People still need to be careful with asbestos," she added.
Mrs Brewer developed mesothelioma from hugging her father, Philip Northmore, an asbestos lagger at Devonport Dockyard, when she was a child in the sixties.
Mr Northmore died of asbestos-related lung cancer in August 2006, aged 68.
Mrs Brewer said his job involved scraping asbestos from pipes, that he would come home covered in dust and the exposure as a child was the only time she would have been linked to asbestos.
The Ministry of Defence, which owned the dockyard when her father worked there, granted Mrs Brewer a six-figure compensation sum in 2007 after admitting liability.
The condition can lie dormant for up to 40 years, and when symptoms do manifest themselves, it is usually fatal within about two years.
Mrs Brewer launched a website to offer support to other patients and underwent experimental treatment in Frankfurt, Germany, which she paid for with her compensation.
Mr Searle said he and others would keep campaigning to raise awareness of the risks of asbestos.
"We will continue to fight on her behalf and for fellow sufferers.
"With us there isn't a cure but we need to prevent further problems with asbestos and prevent the younger element coming through."