GB Row round-Britain race crew pulls out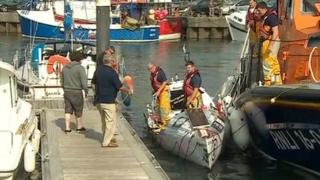 A fourth crew has pulled out of the round-Britain rowing race after getting into difficulties.
Oarsome Adventures in second place reported a "catastrophic steering failure" about 30 miles (48km) north west of Padstow, its crew said.
A lifeboat towed the crew of four men and two women into Padstow.
Only two of the six boats that started from London last Saturday are still in the non-stop 2,000-mile (3,220km) race, organisers confirmed.
And another crew, leading team The Islanders, reported that a rower has back problems.
A £100,000 prize awaits any crew which beats the round-Britain non-stop rowing record of 26 days, 21 hours.
Claire Shouksmith, 34, from Bournemouth, who was rescued with three others off Start Point in Devon on Thursday left Salcombe on Friday to complete the course, but her rescue has ruled her out of the competition.
Her Pure Gym vessel was towed into Salcombe on Thursday after its electrics failed.
Ms Shouksmith's crew now includes Stuart Chamberlayne from Coulsdon, Surrey, who was also rescued in another race boat.
'Completely gutted'
Mr Chamberlayne, of the Hallin Marine 2, was rescued with three other crewmen off Land's End.
He said: "I was so depressed we were out with all the hard work we had put in for 18 months and it to all end in six days.
"I was completely gutted. I just wanted to give it another shot. I couldn't go back to my friends and family without giving it another shot."
Ms Shouksmith said: "We heard that Hallin had retired so we pinched one of their crew.
"I'm sad we're not in the race but my aim at the start was to row around Great Britain.
"After yesterday's roller-coaster of a day I can probably cope with anything."
The support team of another race boat, Savoir Faire, crewed by Jason McKinlay, 42, and Josh Tarr, 27, from nearby Kingsbridge, made the repairs.
Race organiser Chris Usborne said all the boats had been prepared "very thoroughly" and safety was "paramount".
"I don't want to lose any boats because they have all put so much time and energy into this very challenging event," he said.