Caribbean lizard found in banana box in Devon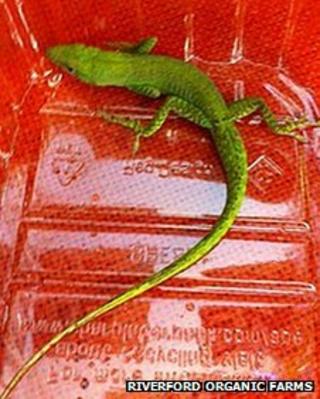 A Caribbean lizard has been found alive in a box of bananas in Devon.
The reptile, which was about 8ins (20cm) long, was found at Riverford Organic Farms, in Buckfastleigh.
Staff said it was the first lizard they had found since starting to import bananas from the Dominican Republic about a decade ago.
The anolis lizard, which feeds on insects, was sent to Paignton Zoo and is expected to be added to its collection.
Amanda Whittington, from the farm, said the animal had been stored in a container since it was found on Thursday.
She said: "A woman was packing bananas into our fruit boxes and out it popped. It gave her a bit of a shock.
"We then caught it and asked Paignton Zoo what to do.
"It then escaped into the customer services department, but we then managed to catch it again and fed it some crickets."
'Certainly a survivor'
She said the bananas took a couple of weeks to transport by boat from the Dominican Republic.
Reptile keeper Rod Keen said: "There are hundreds of species of anolis lizard, which are related to iguanas.
"It is certainly a survivor, as it's come thousands of miles in various methods of transport and spent time in cool rooms," a spokesperson added.
The reptile will spend a standard six month period in quarantine at the zoo, and will probably be released into one of the tropical houses.