National Trust defends Plymbridge Woods cycle trail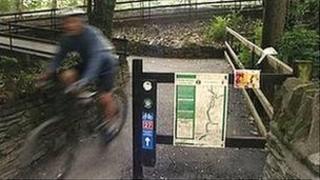 The National Trust has defended its work creating a cycle trail through Plymbridge Woods in Devon.
Campaign group Friends of Plymbridge Woods said the impact of construction in the woodland near Plymouth had left it looking like a battlefield.
The trust has scaled back its original plan for a nine mile (15km) off-road cycle route to 2.5 miles (4km).
Trust manager Adrian Colston said he was confident the area would fully recover when construction work ended.
"I think it's fair enough to say it doesn't look great at the moment, but we're in the middle of doing the work and a building site never looks great when the work's going on," he told BBC News.
"We are confident that after we've completed the work and a little bit of time has been given to it, the bluebells will grow back and the path will blend back into the woodland."
Badger sett discovery
But Arthur Ainslie, who has campaigned against the trail, said it has still devastated a beautiful area.
"I look at the devastation in these woods and frankly it breaks my heart," he said.
"The trust has heavy machinery plant in the woods now carving 2m-wide trails through the bluebells.
"Last time I saw a scene like this was on Salisbury Plain where the Army brings its tracked vehicles through for training.
"That's what it looks like now - it looks a bit like the Somme."
Following the discovery of a badger sett, the trust has submitted a slightly amended planning application, but Mr Ainslie said it was concerning that the sett had not been found when the area was surveyed.
But Mr Colston said the sett was not picked up during the wildlife survey as it was under and area of "very dense" cherry laurel.
Joint funding
He said the fact that the trust had "re-jigged" the route around the sett showed it was prepared to modify its plans and deal properly with anything else that might come to light.
"We're as much into conservation as everybody else," Mr Colston added.
When completed, the cycle route will be graded blue - suitable for families and young children - and will link to route 27 of the National Cycle Network.
Development of the cycle trail and car park is being funded by the trust and the government through the Rural Development Programme for England.