Duke of Kent takes salute from former Devon and Dorsets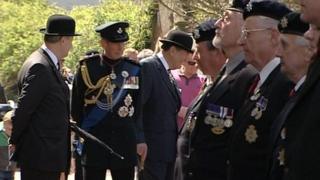 The Duke of Kent has taken the salute from former members of the historic Devonshire and Dorset regiment.
World War II veterans were among those who marched through Exeter to rededicate a chapel to both counties at the city's cathedral.
The regiment became part of 1st Battalion The Rifles in 2007.
The duke was accompanied by Exeter's Lord Mayor, the Lord Lieutenant of Devon and the Deputy Lord Lieutenant of Dorset.
Lt Col Mike Richardson OBE, chairman of the Regimental Association of the Devonshire and Dorset Regiment, described it as a "significant and memorable occasion".
"We former Devon and Dorsets always enjoy the warm reception that we get from the people of Exeter as we conduct our annual march through the city, and are thrilled that our Patron, HRH The Duke of Kent, is joining us this year.
"We always remember our fallen comrades, but on this occasion, uniquely, we are doing so as we rededicate our regimental chapel in the cathedral."