Lecturer from The Levellers wins teaching award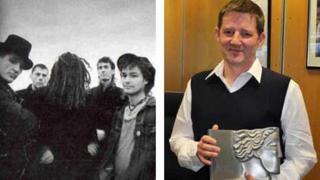 A college lecturer who was once in folk rock band The Levellers has won an award for his work.
Alan Miles, aged 47 but "going on 18", played the mandolin on The Levellers' first album, Weapon is the Word.
He left the band in 1990 after getting "fed up" with the touring and took a music degree.
Now teaching music at City College Plymouth, he is the winner of the Pearson Teaching Award for FE Lecturer of the Year in the South West.
Mr Miles said: "I have really worked hard and it means a lot to me."
He joined The Levellers when they were a struggling band in Brighton but walked out after the first album.
"I was fed up with touring, they were touring all the time and they keep doing it.
"Fair play to them, but I was ready to stop."
'Life's beautiful'
He rejected claims on the internet that he walked out in a row over the band's socialist principles.
"I certainly did not leave because of that, I am an anarchist socialist."
He said the key to his success was learned in The Levellers.
"Someone once told use we played gigs 100% from the beginning to the end and that's kept me going.
"I spend all the time with young people, exploring music and recording.
"Life's beautiful."
College principal Phil Davies, who nominated Mr Miles, said: "Alan is a larger than life character with a passion for transforming people's lives through the medium of teaching music and music technology."
Judges agreed saying: "He is inspiring, innovative, passionate and motivating."
Mr Miles will now join fellow winners at the UK final of the Teaching Awards on 20 October