Snow and winds of 65mph hit Devon and Cornwall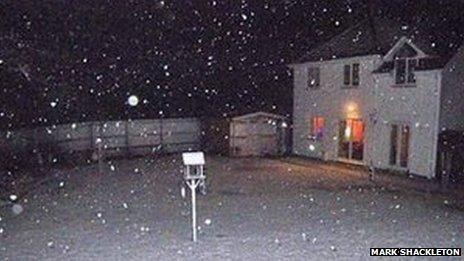 Snow has fallen in parts of Devon in what has been described as "fairly unusual" weather for May.
Winds of up to 65mph also struck the South West coast overnight with a number of trees coming down, some blocking roads.
Western Power Distribution said homes in Cornwall were still without power after thousands were cut off overnight.
Fourteen flood alerts are still in place in Devon and Cornwall following heavy rain on Monday.
Sheila Coates, from Princetown, told BBC Radio Devon: "It's crazy. When I went to bed last night I couldn't see out of my front window for the snow.
"I've lived here all my life and I've never known weather like it at this time of year."
Gavin Fabiani-Laymon, who also lives in Princetown, took a photo of the snow and said it lasted "about an hour".
"I went to walk the dog and opened the front door to a blizzard of snow.
"It was mad, it took me by surprise," he said.
The Met Office said the snow which fell in Devon was "a transient feature".
Forecaster Philip Avery said: "May snowfall is unusual but not unheard of, even in southern England.
"Snow has even managed to fall into June… but that really is a rarity.
"The last really widespread snowfall in May was 17 May 1955 when much of England and Wales was affected by several hours of snow.
"Coincidentally, Devon also saw significant snow on 17 May 1935."
He said the snow was caused by very wet and windy weather across the region on Tuesday combined with falling temperatures after sunset.
The winds are expected to ease during Wednesday with the weather getting drier and brighter.
About 12 homes are without electricity in Plympton St Maurice, Plymouth, after a tree crashed through power lines about lunchtime and landed on a parked car.
Devon and Cornwall Police said no-one was injured, but the area was closed off to allow Western Power engineers to make safe a live cable and let council workers remove the tree.
Related Internet Links
The BBC is not responsible for the content of external sites.